Robotics Makes Debut as Sanctioned Contest for 2018-19
By Lauren Kelley, UIL Intern | Wednesday, November 01, 2017 3:23 PM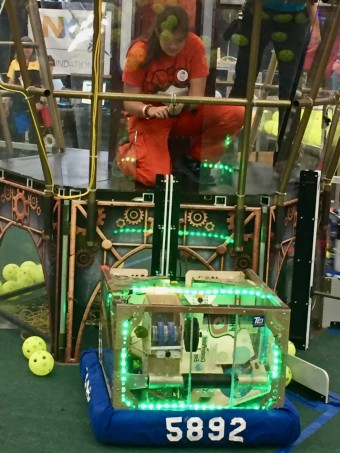 Energy Institute High School in Houston competes in a FIRST division contest.

Photo by David Trussell
If approved by the Commissioner of Education, robotics will be an official contest beginning in the 2018-2019 school year. For the last three years, the contest was a pilot program.

"Robotics is unique in several respects, in particular that we are working with two robotics organizations – BEST Robotics and FIRST Robotics," David Trussell, robotics director, said. "Competition happens through the qualifier meet structures established with those organizations, so there are no separate UIL district or regional meets for robotics."

Then, teams that do well in those qualifier meets have the opportunity to earn an invitation to the UIL Robotics State Championships.

"UIL robotics also has a fall and spring season," Trussell said. "BEST competition runs entirely in the fall and FIRST competition mostly in the spring, so we are able to have two seasons each culminating in a state championship."

Schools can participate in either FIRST or BEST, or both.

"Member schools who wish to participate in UIL robotics should first take a look at the options available in the program and decide what would be the best fit for their students and school community," Trussell said. "Then they would register a team with the respective robotics organization and participate in qualifier meets through that organization."

Feedback from the pilot has been overwhelmingly positive thus far.

"We have about 350 schools already participating, and many others who are working to start programs," he said.

UIL had been interested in robotics for many years, but didn't begin a pilot program until 2014.

"When the [Legislative] Council approved the pilot program, it gave us an opportunity to develop something unique that I believe will help robotics participation grow and positively impact students for many years to come," Trussell said.